This post contains affiliate links. 
Last Sunday I shared a picture on Instagram and Facebook of several freezer crock pot meals zipped up in plastic bags laying on my kitchen counter just after I'd labeled them and just before they went into the freezer. I instantly got comments, messages, and emails asking for more information. Of the three different freezer meals I prepped that day this Slow Cooker Chicken Taco Bowl was one.
During the school year I rely on our slow cooker to get me through our busy schedule. During football season I use our slow cooker to make sure we have filling, fun, and healthy game day dinners without succumbing to the urge to order pizza as we watch the Broncos. Last Sunday, these delicious shredded chicken taco bowls were the perfect game watching meal. It was a hit too, with each of our bowls empty at the end of dinner.
I love this recipe because…
1.It's delicious.
2.It's easy, there is no chopping or cutting.
3.It's so versatile, have it on rice, in taco or burrito shells, over chips, the possibilities are endless.
4.You can also Make as many bags of this chicken as you would like.
To make a bunch of Chicken Taco Bowl bags I line gallon zip top bags up and dump the first ingredient into each bag and then go back through and add the next, and the next until you have filled the bags. Then I label them with the name of the dish, and the cooking time -in case Luke is the one cooking-  then lay them flat in the freezer. Once they are frozen flat you can arrange them in your freezer in whatever way works for you.
Sometimes slow cookers are known to over cook things. Especially if you have to have your food in the slow cooker longer than the recommended cooing time, or the 4 cooking time options average slow cookers give you. For a long time we had a regular slow cooker and because of my schedule as a stay at home mom our food was never really over done, simply because I was able to get everything into the slow cooker later in the day and avoid having it in there so long it would over cook. Once life was busier with school days, after school activities and such, and we'd experienced a few overcooked meals thanks to the 4 or 6 hours on high and 8 or 10 hours on low options I started the search for a programmable slow cooker. After a lot of online researching and looking in local stores I finally settled on the Crock-Pot 6-Qt Programmable Slow Cooker (affiliate). I love this slow cooker. Love it.  You set the length of time you would like your meal to cook in 30 minutes increments  anywhere from 30 minutes up to 20 hours as well as select if you'd like it to cook on LOW or HIGH. Once the meal has cooked for your set time this Crock-Pot switches to warm until your turn it off.  No more burnt or overdone slow cooker meals for us.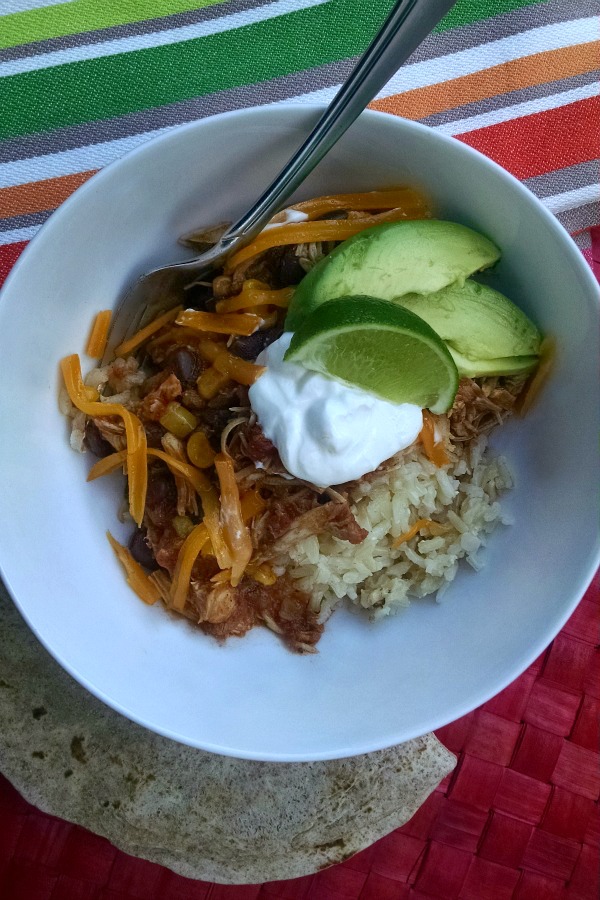 Slow Cooker Chicken Taco Bowls
1 cup frozen corn kernels
1 can black beans
1  1/2  lbs chicken (we prefer boneless skinless chicken thighs, but breasts also work)
2 cups salsa
1 tablespoon chili powder
1 tablespoon ground cumin
1/2 teaspoon garlic powder
1/4 teaspoon ground cayenne
To make this slow cooker ready freezer meal add corn, black beans, chicken, salsa, chili powder, cumin, garlic, oregano, and cayenne to a large gallon plastic zip top bag. Lay flat to freeze.
Remove from freezer the night before you plan to cook your taco bowl mix in the slow cooker and place in the refrigerator. To cook pour contents of bag into slow cooker and cook 4 hours on high or 6-8 on low. Use two forks to shred the cooked chicken in the slow cooker. Give everything a good stir. Serve over cooked rice topped with avocado, shredded cheese, a slice of lime to squeeze and a dollop of sour cream, use as taco or burrito filling, or with cheese and sliced jalapenos over chips as nachos.