Let's talk about one of my secret weapons when the family calendar starts to fill up. Let's talk about Slow Cooker Lasagna Soup. We've hit that time of life where there seems to be something going on every day after school. Swim team, Spanish Club, piano lessons, school board and parent group meetings, school performances, and play dates. We only have one child who is enrolled in after school activities right now and I'm not even sure what afternoons and evenings will look like in the coming years when we have two kids to get to different places.
I'm not one of those people who places importance on the word "busy," and I most certainly do not feel more worthy when I can say I am busy. So, I am most definitely not glorifying busyness, we are at a very manageable place with our schedule right now, and if that ever becomes stressful or unmanageable we'll reevaluate things.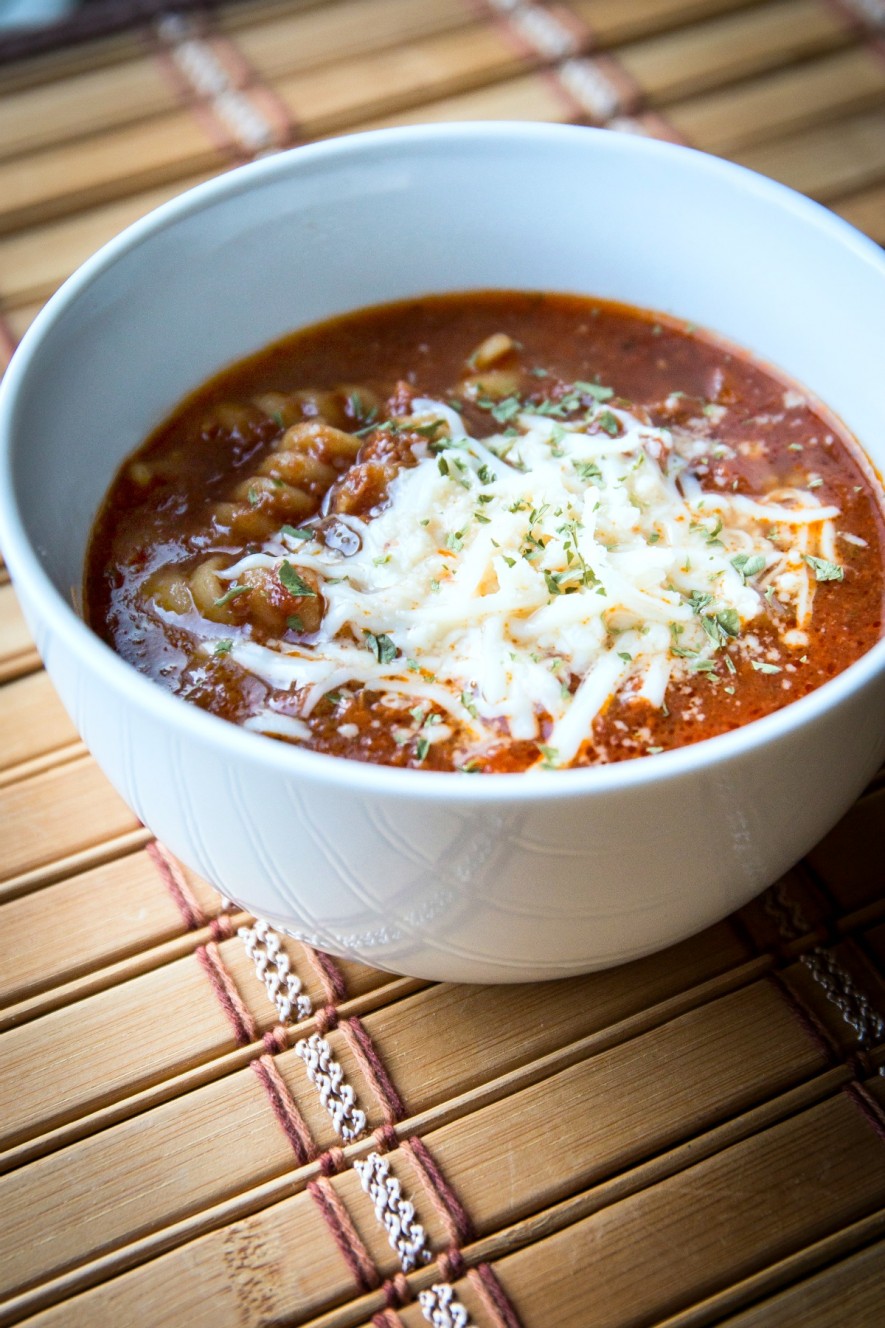 With that said I can put away my tiny soap box and say that even though I'm not glorifying busy I am glorifying making things easier when I can. One way I make things easier even with being out and about, and away from the kitchen, when it would be helpful to be home preparing dinner is with freezer meals, and another is with slow cooker meals when I can. Slow cooker lasagna soup is one of those Crock Pot meals that fits in both the freezer meal and slow cooker meal categories. Of course I big puffy heart L-O-V-E it.
Here's what you do. This is how you make this soup a weapon against stress and busyness. You follow the instructions below to make this soup into a bagged slow cooker freezer meal (some people call that a "dump recipe" because you dump the contents of the bag into the Crock Pot and you're done, I do not like the term dump associated with food though, yuck!). Use my freezer meal method to make multiple bags of this Lasagna Soup then put them in the freezer to back you up when needed. When you know you have a busy day coming up you have everything ready to go into the slow cooker. And just like that dinner stress is defeated and you are the champion. It's good to be the champion.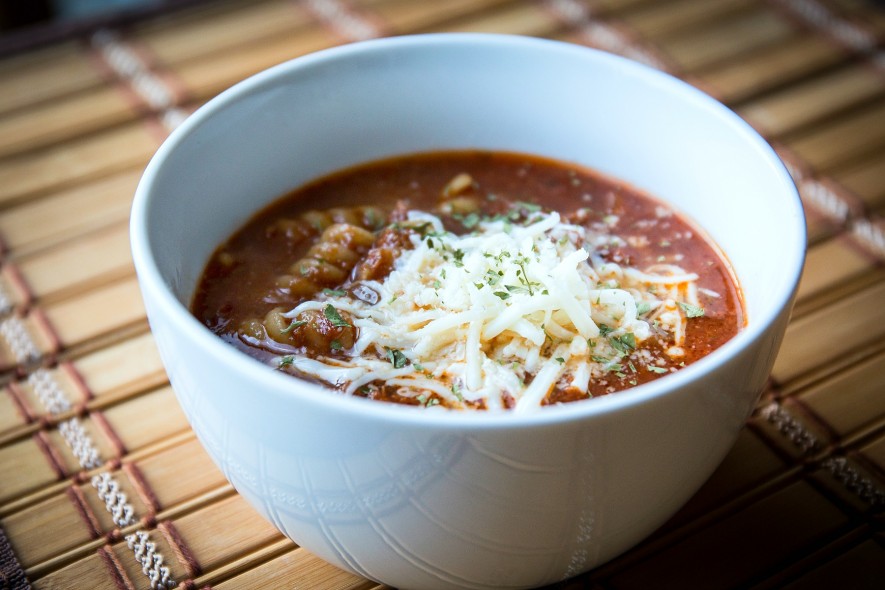 Slow Cooker Lasagna Soup Ingredients
1/2 lb Italian Sausage
1/2 lb lean ground beef
4 cups beef broth (divided)
1 6 ounce can tomato paste
1 15 ounce can crushed tomatoes
1 28 ounce can diced tomatoes
5 cloves minced garlic
1/2 cup diced onion
2 tablespoons Italian seasoning
2 cups uncooked fork pasta (rotini and shell pasta work well)
Salt and Pepper to taste
Shredded mozzarella and grated Parmesan to top soup
Chopped parsley (optional)
Set aside one cup of beef broth in the refrigerator for finishing the soup.
Add the tomato paste, crushed tomatoes, diced tomatoes, 3 cups of the beef broth, onion, garlic, and Italian seasoning to your crock pot or slow cooker.
Using your hands or a wooden spoon break the sausage and ground beef into small chunks about an inch or so in size. Place the meet in the slow cooker and give the pot a quick stir to mix everything together. Cover and cook on high for 4 hours or low for 6 hours.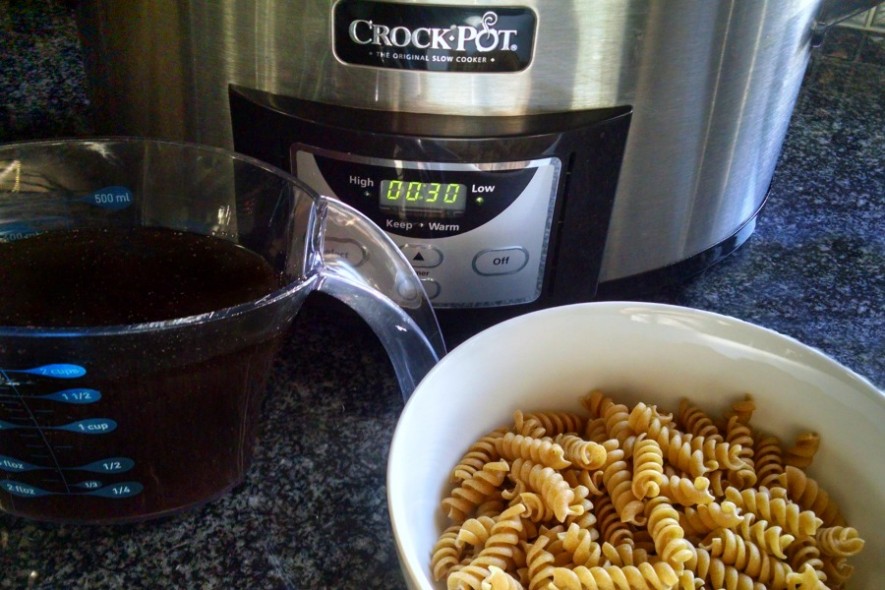 With about 30 minutes left in your cooking time add in the pasta and the remaining beef broth give it a stir and place the cover back on the slow cooker. Cook the soup until the noodles are al dente – about 30 minutes.
Serve topped with a generous sprinkle of shredded mozzarella, grated Parmesan cheese, and parsley.
Slow Cooker Lasagna Soup Freezer Meal Prep Instructions
It's easy to turn this meal into a bagged slow cooker freezer meal to use on busy days or to simple get ahead on cooking. Make multiple bags of this soup to save yourself time and build up a good freezer meal stash. Take a quick look at my tips for successful freezer meal prep to help get yourself started.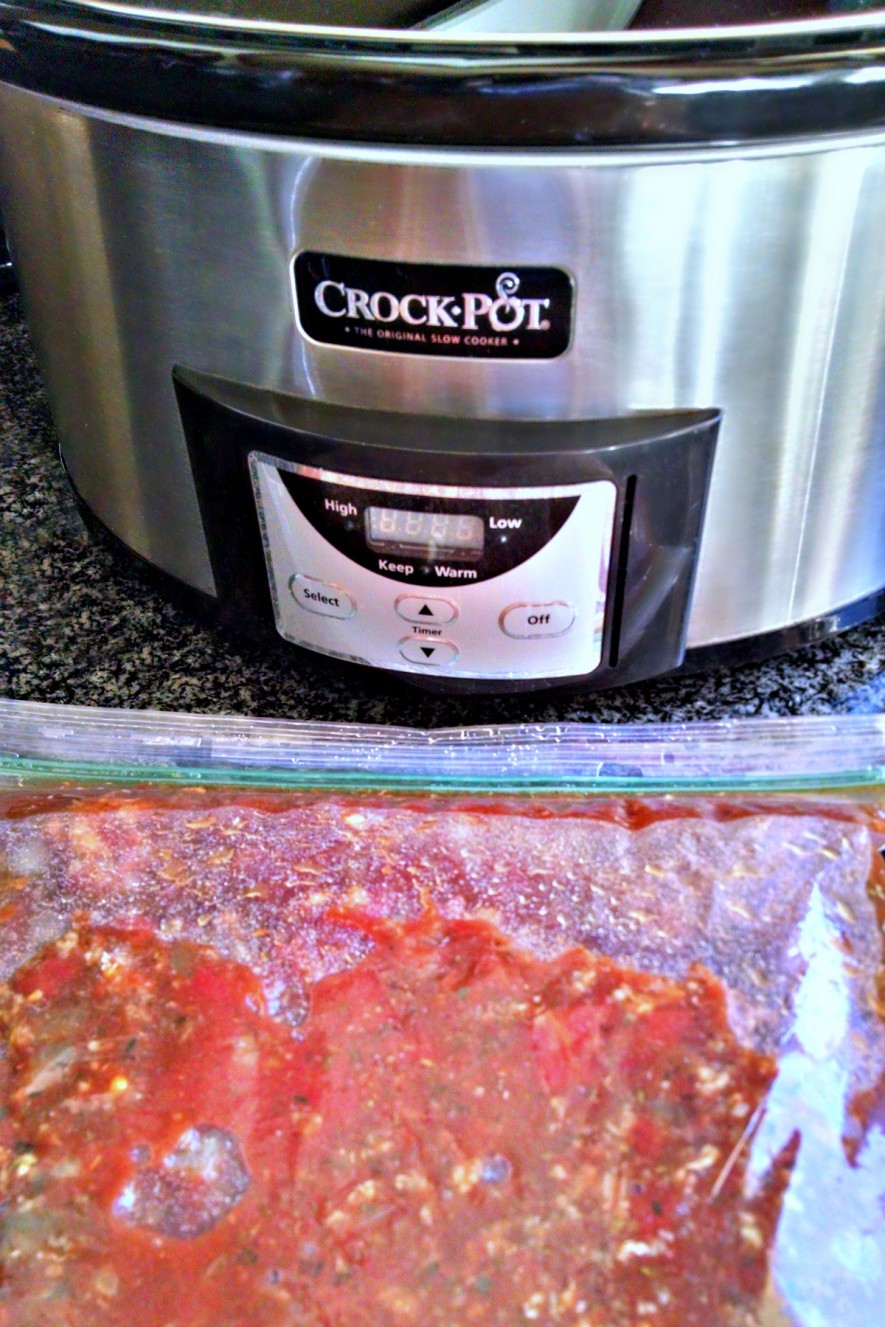 Write your recipe name and important instructions on the freezer bag label area. For this particular recipe I would suggest writing "Lasagna Soup: 4 hrs on high or 6 hrs on low, add one cup broth/water and 2 cups uncooked pasta with 30 minutes remaining in cook time."
Add all ingredients into  your labeled freezer bag and lay it flat in your freezer until frozen through. Once it's frozen you can stack the bag or line it up as best works in your freezer. Pull the bag from your freezer the day before you plan to cook it to thaw a bit. If you need to cook it the same day you pull it from the freezer set the bag under cold running water to thaw it enough to get the bag's contents poured into the slow cooker – the bag doesn't not need to be completely thawed before it goes in the slow cooker.