Lately, I've been sitting in one of the rocking chairs outside on our covered front porch while I drink my coffee and read before the kids wake up each morning. I watch the sun come up over the tops of the trees at the end of the street, listen to the birds chirp, and take a little time for me before kids speed up the pace of the day with their energy and enthusiasm for all things summer.
Every morning I wake up early, pad down the stairs, stop by the coffee maker to fill my cup, grab a book and head out the front door. After my most recent playtime in the kitchen I'm seriously considering starting off my day with creamy Coconut Chai Ice Pops. Of course I think I'll still want to have one as an afternoon treat too.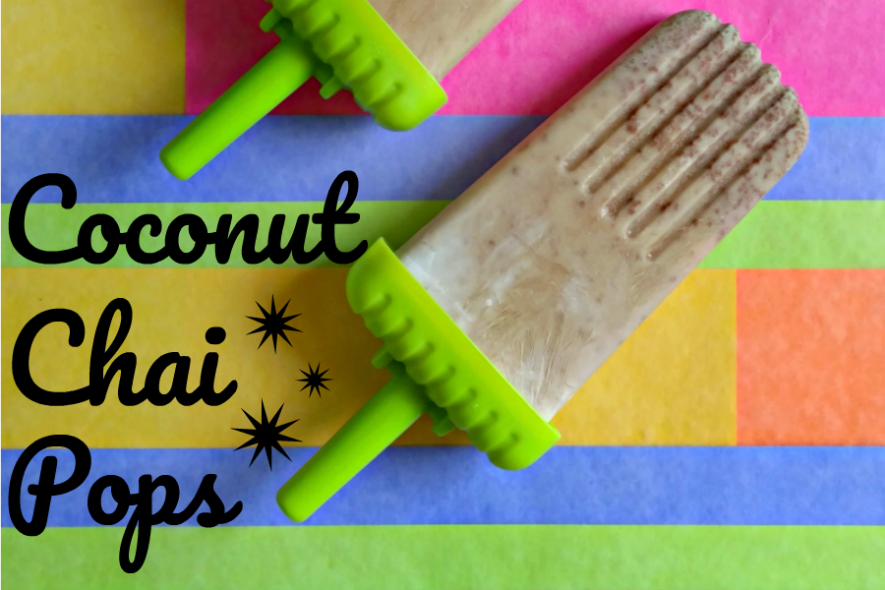 I got the idea for creamy chai ice pops while listening to my girls dream up fruit combinations for the frozen fruit pops they're making for as part of this summer's Summer Bucket List. They have a blast blending, mixing, and perfecting frozen treats and as they listed out ideas to each other the idea for these Coconut Chai Ice Pops popped into my head and I knew I was not going to be happy until I made my idea a reality.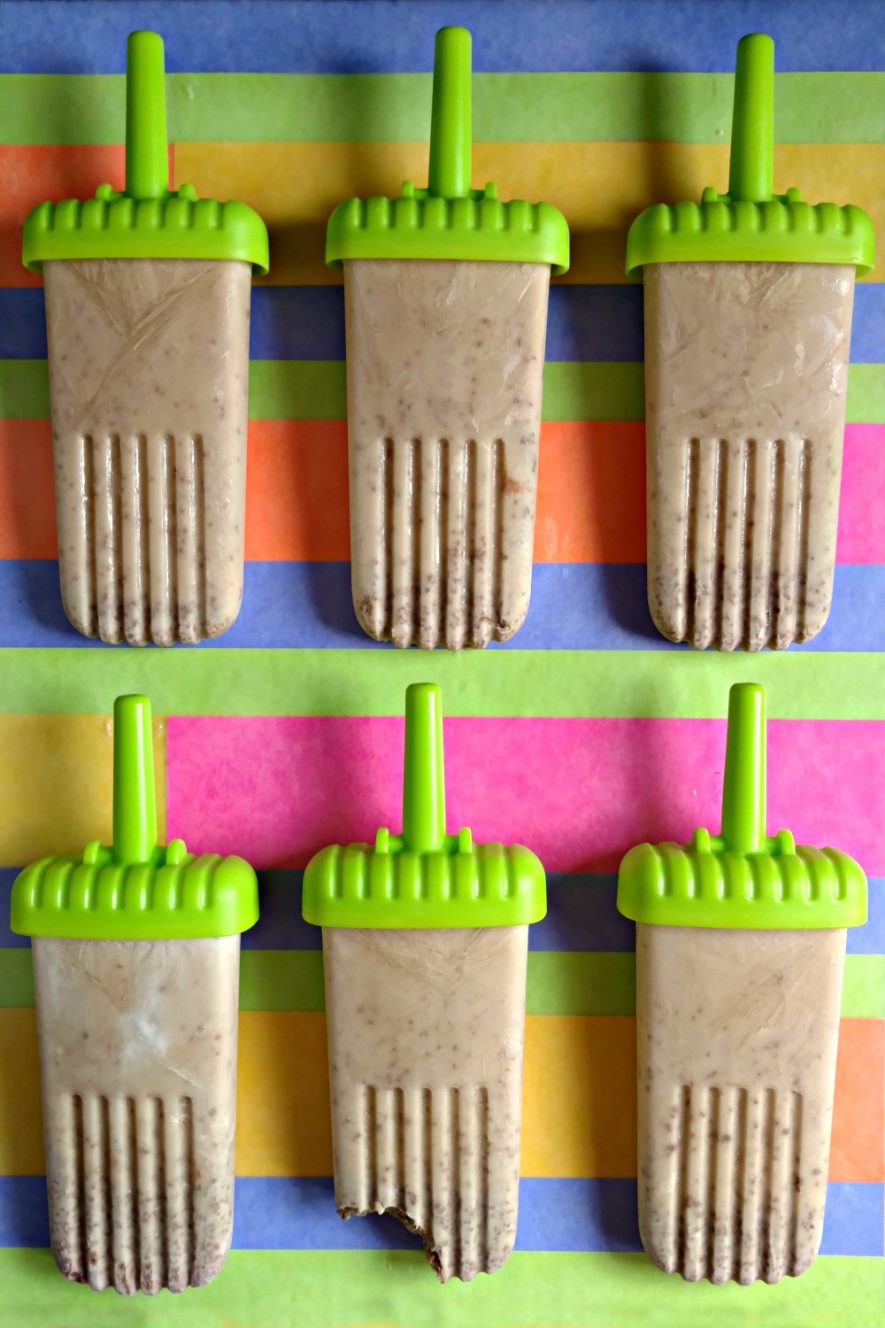 Thanks to Sprouts Farmers Market and Bhakti Chai I recently had the chance to tour the Bhakti brewery and get a behind-the-scenes peek at how they make their chai and what makes the company so unique. I got to bring home some Bhakti Chai products, Sprouts goodies and a Sprouts gift card to play around with in my kitchen with, too. Now I have the pleasure of sharing a little bit of what I learned at Bhakti – and a yummy frozen chai pop recipe that I am in love with – with you.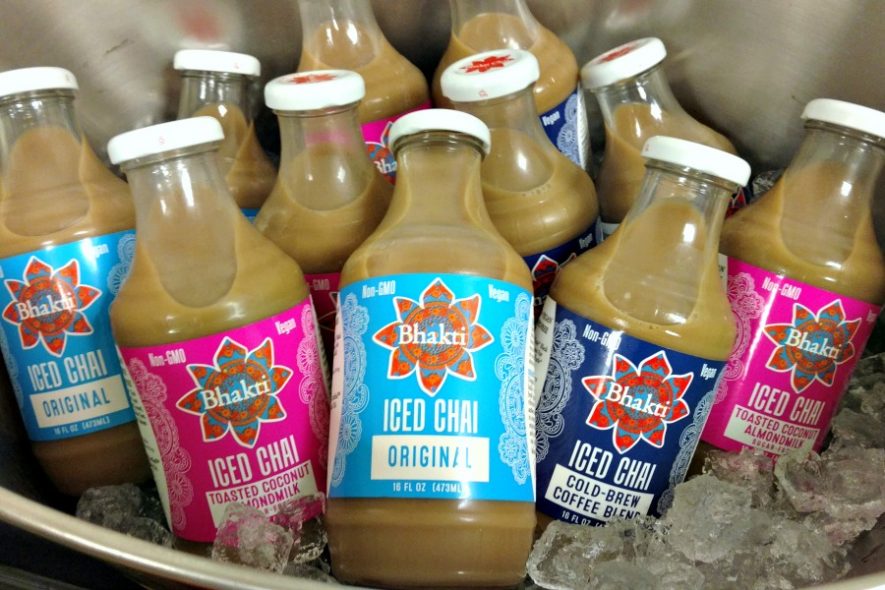 Bhakti Chai was founded in 2006 by Brook Eddy near Boulder, CO. Hooray for awesome local companies, right?! During a trip to India to study a social justice movement based on Bhakti (translated to devotion through social action) Brook was inspired by the people, communities and, chai she came into contact with. When she returned home she began working to create a chai recipe all her own, and from there a company was born.
Of course I love that Bhakti is a local Colorado company, but I also love that Bhakit Chai is a company with impeccable standards and an eye towards social responsibility.  Bhakti Chai products are Non-GMO project verified and Fair Trade Certified, and use organic ingredients whenever possible.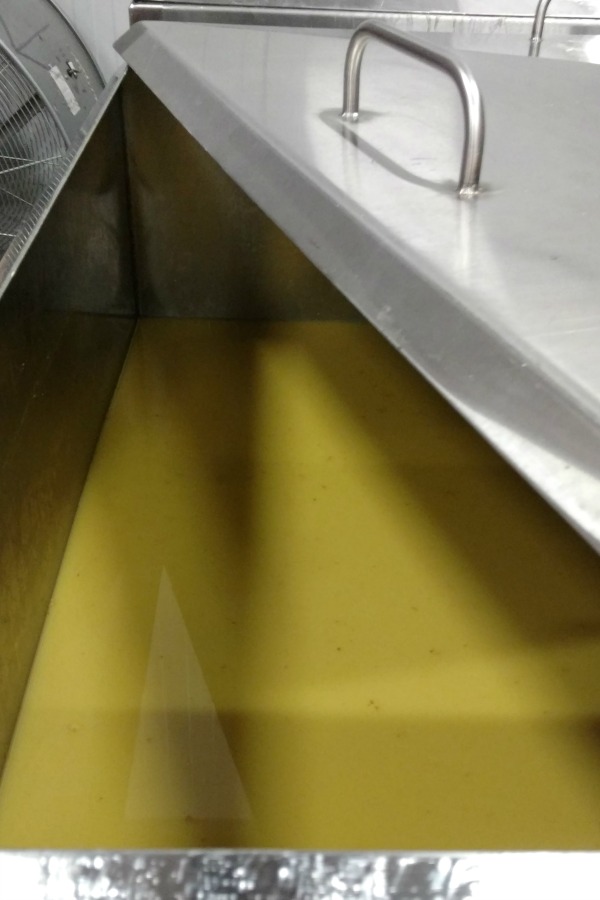 They use fresh pressed ginger in their brews, and honestly I think you can taste the difference. The huge container of fresh pressed ginger juice was impressive – I'm pretty sure most people will never see that much fresh ginger juice all at once – and the sample of fresh pressed ginger juice we all tried was spicy and refreshing all at once.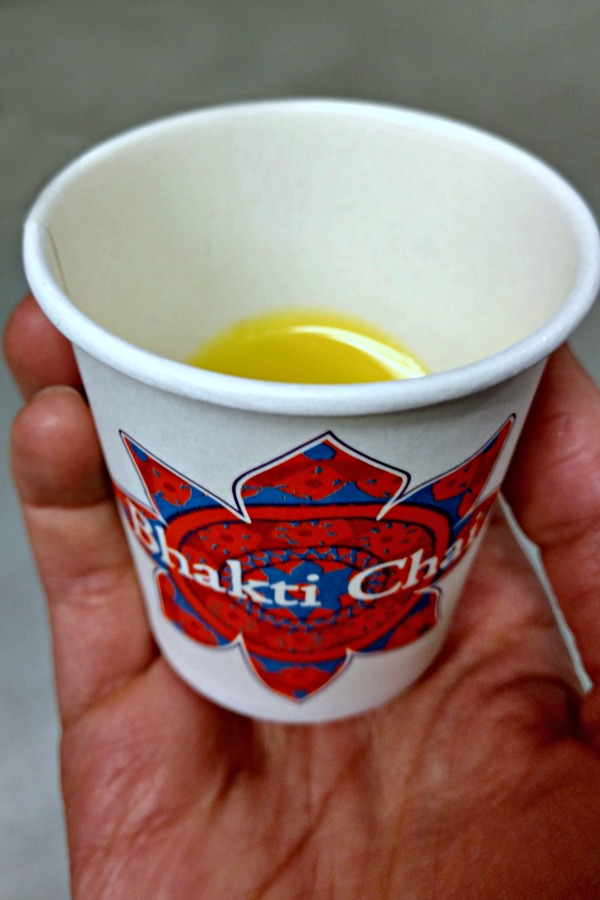 So back to my frozen pops. Last summer we bought some star shaped ice pop molds and the kids have loved them so much we made sure to include making fruit pops on this year's Summer Bucket List. Since our star ice pop molds are in heavy rotation this summer, I got another set of pop molds in a more classic shape made by the same company. And now that we have two sets of ice pop molds it will be very tempting to keep these Coconut Chai Pops in stock in my freezer all the time.
These Coconut Chai Ice Pops are creamy and delicious. Luke and I grabbed a couple of these treats this afternoon and stole away to the porch swing for a bit of summertime bliss. Luke was happy to hear that there was six in the batch so there are still a handful left in the freezer for him to have asap. You could skip the chocolate in the recipe if chocolate isn't your thing, but it such adds a nice sweet touch to balance out the spicy chai and creamy coconut that I'm not sure you'll see a Coconut Chai Ice Pop in my house without it.
Go make some of these and stock your freezer!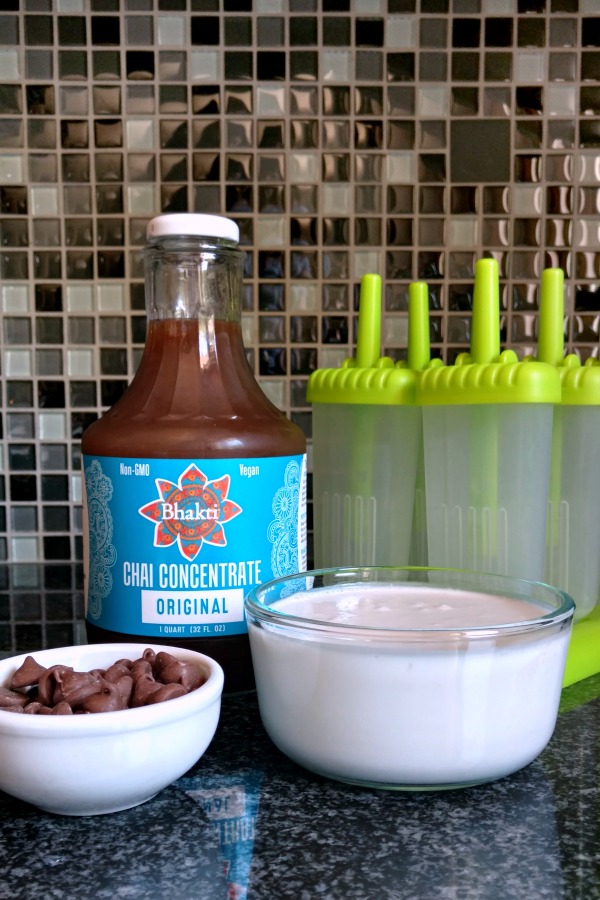 Ingredients to make Coconut Chai Ice Pops
1 can (14 ounces) full fat coconut milk
1 1/4 cups chai concentrate (I used Original Bhakti Chai concentrate)
1/2 cup Milk Chocolate Chips finely chopped
How to make Coconut Chai Pops
Mix the coconut milk, chai concentrate, and finely chopped chocolate chips in a container. Use a large liquid measuring cup or a bowl with a spout  or a medium pitcher if you have one to mix the ingredients to make pouring into your frozen pop mold.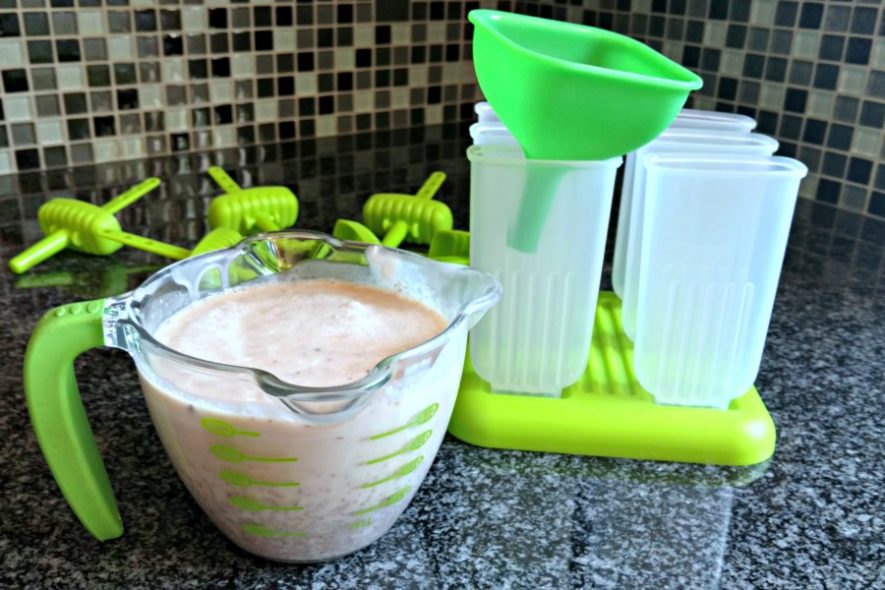 Carefully pour an equal amount of the coconut chai chocolate chip mixture into each pop mold leaving a little space in each mold. Use a spoon to add the chocolate that settled to the bottom of the mixing bowl into each mold. Put the tops into your molds and freeze your pops for 4-6 hours.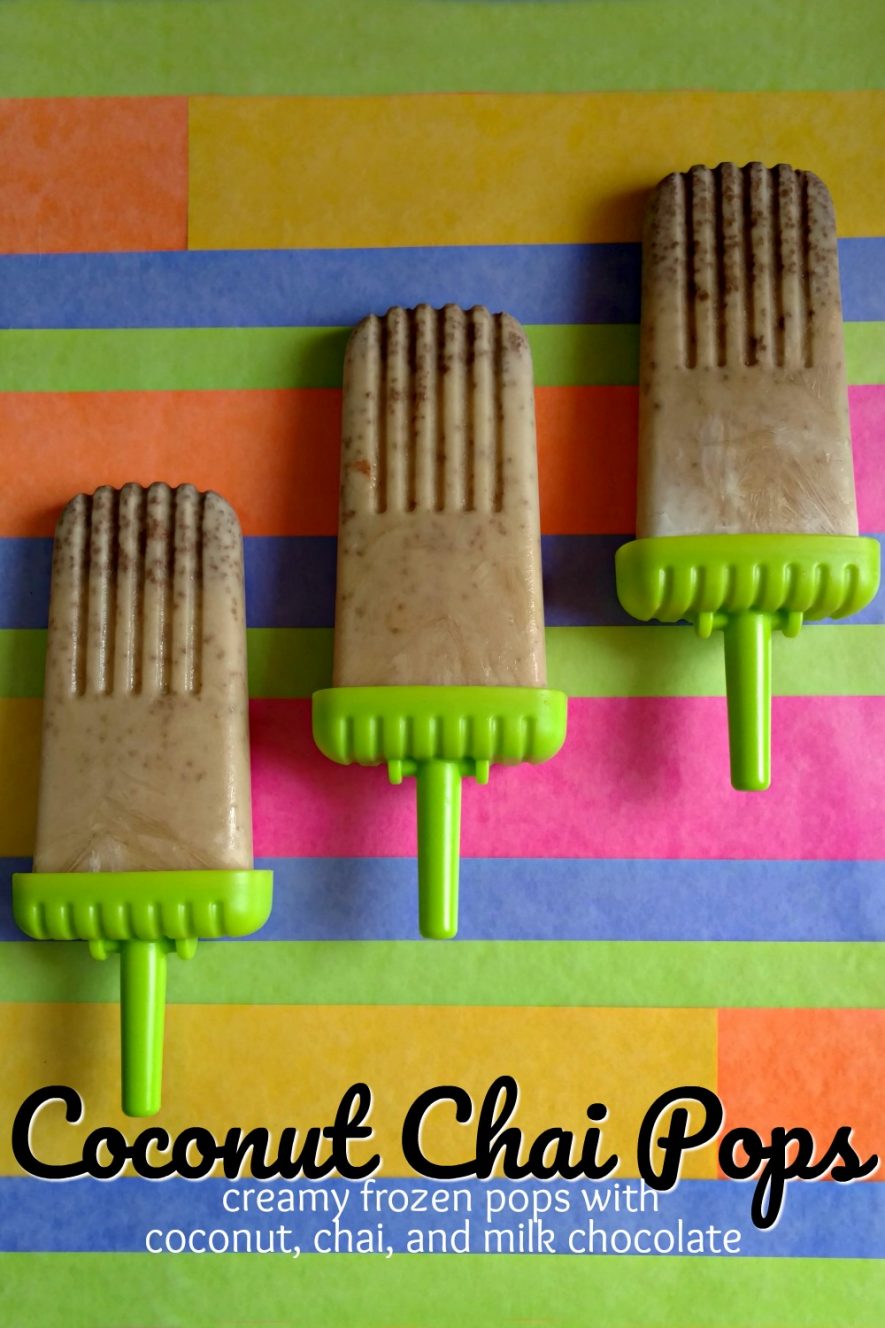 This is recipe was created by Evolving Motherhood on behalf of Sprouts Farmers Market and Bhakti and is sponsored content. All experiences and opinions are my own.